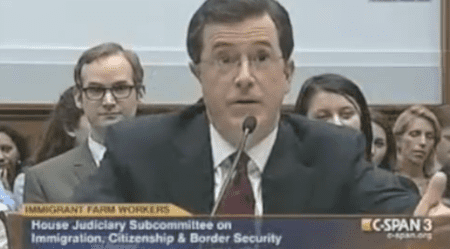 The blogosphere has spent the last day or so critiquing Stephen Colbert's unusual performance in front of the House Judiciary Committee yesterday. While his jokes were, at the very least, amusing, he did give us a few groan-worthy doozies. In particular, one joke Colbert made in front of Iowa Rep. Steve King about gay Iowans fell remarkably flat.
During the hearing, King commented to Colbert about a video shown at the hearing. King said Colbert was unpacking corn instead of packing it during his trip to the farm. King said he presumed the film was run backward because that was counter-productive to getting the corn to market.

Colbert said he didn't understand the statement, but explained that he was packing corn, even iced it down. Colbert went on to say, "I know it's offensive, because corn packer is a derogatory term for a gay Iowan."
Funny or unfunny? You decide.
Watch Colbert's opening statements here and watch him deliver the corn packer joke, AFTER THE JUMP.