In an interview with The Times, The Archbishop of Canterbury, Rowan Williams, has stated that he has "no problem" with gay bishops.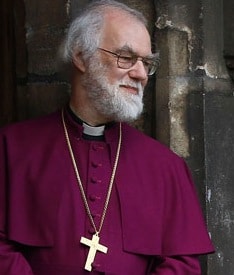 "I think if I were to say my job was not to be true to myself that might suggest that my job required me to be dishonest and if that were the case then I'd be really worried. I'm not elected on a manifesto to further this agenda or that. I have to be someone who holds the reins for the whole debate. To put it very simply, there's no problem about a gay person who's a bishop. It's about the fact that there are traditionally, historically, standards that the clergy are expected to observe. So there's always a question about the personal life of the clergy."
But Williams has one caveat. He has no problem with it, so long as they're celibate. Heterosexual clergy are not required to be celibate.
In the interview, Williams also confessed that one of the biggest mistakes made during his stint as Archbishop involved openly gay and celibate cleric Jeffrey John, who was forced to remove himself from the running as a potential bishop in 2003.
Reports the AFP:
"John is openly gay and entered a civil partnership in 2006 but lives a celibate life. He withdrew his candidacy in 2003 to avert a rift between conservative and liberal factions within the Church of England and was instead appointed Dean of St Albans. Earlier this year a selection committee that included the Archbishop of Canterbury rejected John's ordination to become Bishop of Southwark. The Archbishop's latest comments provoked a stern response from human rights campaigner Peter Tatchell on Saturday."
"'Rowan is not being consistent,'" Tatchell told The Times. 'On the one hand he says that he doesn't have a problem with gay bishops and on the other hand he blocked the appointment of celibate Jeffrey John.'"
Williams' initial reaction to the election of openly gay Mary Glasspool as bishop last year: "(The election) raises very serious questions not just for the Episcopal Church and its place in the Anglican Communion, but for the Communion as a whole." Glasspool was ordained in May.
Read the entire interview on The Times Website (subscription required).