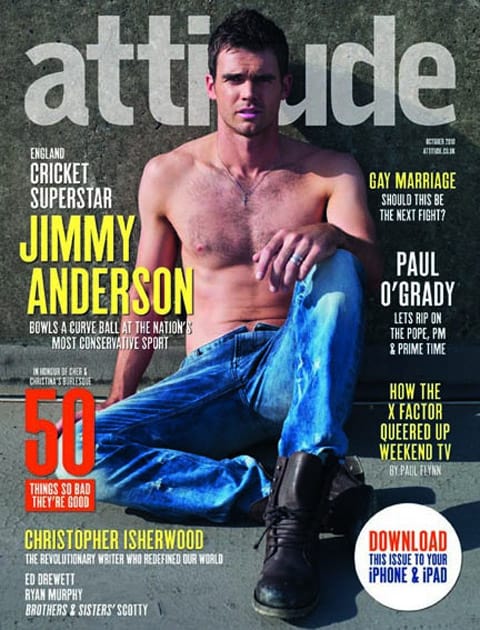 Straight British cricket star Jimmy Anderson is planning to take his clothes off in the October issue of Attitude to show his support for gay people:
AFP reports: "Usually the only nudes in cricket are pitch invaders who 'streak' across the wicket, and Anderson admitted he will probably get 'some stick' for taking part in the shoot by fashion photographer Ram Shergill. But insisted he was 'more than prepared' to shed his clothes. He added: 'If there are any gay cricketers, they should feel confident enough to come out, because I don't think there is homophobia in cricket. Football fans can be quite abusive and quite harsh, and cricket fans can be like that sometimes, but they are generally quite placid and there to watch the game and support their team.' Asked how he would react if a cricketer came out, he said: 'I'd throw them a special gay cricket tea.' Attitude Editor Matthew Todd said the cricketer's decision would send a 'strong, playful signal' that sportsmen can be comfortable with homosexuality among team-mates and fans."
Has any major straight male U.S. athlete made such a gesture? And if not, who might be the first?