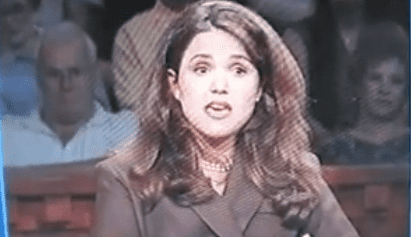 Last night, Bill Maher showed a previously un-aired clip of Christine O'Donnel from an appearance on Politically Incorrect in 1998. This comes after the recent unearthing of an abundance of juicy quotes from the Delaware GOP Senate candidate, such as her statement that homosexuality is an "identity disorder" and her belief that masturbation is, well, bad.
Next up is her take on evolution, which she calls a "myth."
In the clip Maher calls her on it and asks, "Have you ever looked at a monkey?"
O'Donnel's response? "Well then, why they — why aren't monkeys still evolving into humans?"
Maher puts it best: "This is someone who could be in the Senate, who thinks that mice have human brains and doesn't understand 'oh my God, that monkeys don't evolve in the time that it would take to watch them.'"
Watch the un-evolved statement, AFTER THE JUMP.