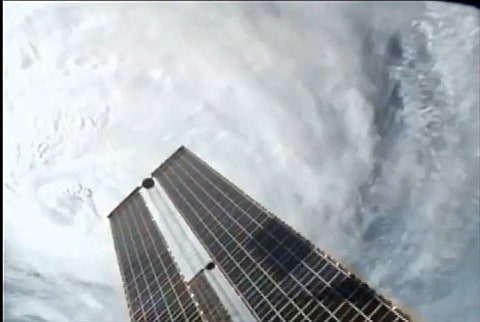 Views of Hurricane Earl from the International Space Station and from a hurricane hunter aircraft inside the eye wall.
Watch, AFTER THE JUMP…
Did you know this is the fourth Hurricane Earl?
"There've been three others, as well as some lesser Tropical Storms of the same name. The naming lists for these things are used again every seven years, and individual names are only retired after they've been attached to a particularly damaging storm. Earl, so far, has not."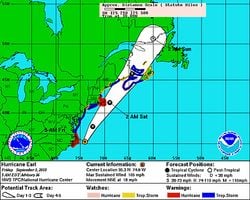 Here's the latest forecast map.
The storm has not made landfall in North Carolina, after sitting offshore for a number of hours:
"The impact of the Category 2 storm appeared to be less than originally expected as Earl churned north parallel to the U.S. Atlantic coast hours after it was downgraded from a Category 4 hurricane. Surging waves pounded North Carolina's Outer Banks low-lying barrier islands, the most exposed areas to Earl. Local emergency officials said no casualties or major structural damage had been reported so far. At least one coastal road was cut by waves washing over it."
Watch the Earl clips, AFTER THE JUMP…