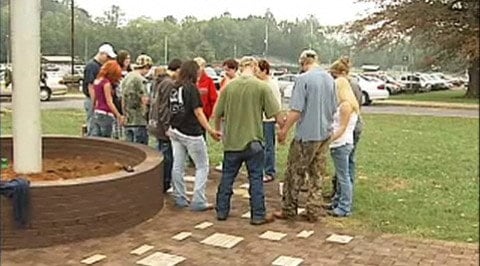 Approximately 15 students held an hours-long prayer vigil on Friday in front of David Crockett high School in Jonesborough, Tennessee, protesting a male student's wish to be elected Homecoming Queen.
The school did not have a policy forbidding a male student from being elected.
Tricities.com reports: "While the students protested, administrators tallied the results of this year's homecoming court election. In the end, Murphy said the teen did not receive enough votes to win a spot on the court and a chance at homecoming queen. 'The young man who was on the ballot was not elected,' Murphy said. 'We look at it as democracy prevailing.' After announcing the results to the protestors, Murphy told all of the students to go home for the weekend. When they return to school Monday, they could face punishment for disrupting the school day."
Watch a clip and interviews with the protesters, AFTER THE JUMP…