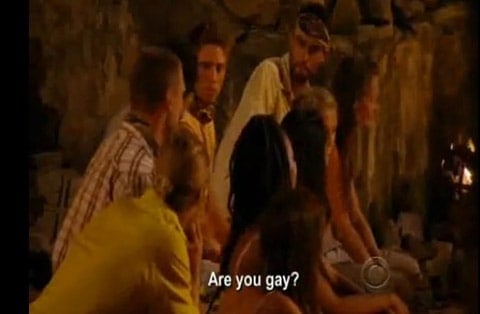 Something's obviously eating at Survivor Nicaragua contestant Shannon (his own latent homosexuality, perhaps?). He thought he could use outing as a weapon at last night's Tribal Council.
Jaws drop. Here's the transcript, (via reality blurred).
Sash: "You're pretty much digging your own grave."
Shannon: "I'm going to get this out of the way right now: Are you gay?"
Sash: "Pfft." [long, dramatic pause] "I'm sure I've had a lot more beautiful girlfriends than you have, buddy."
Shannon: "You probably haven't, my brother. But good luck. Yeah, trust me, you haven't."
Sash: "I'm 100 percent. I'd like to see you try to work your magic in New York."
Shannon: "New York's full of a bunch of a gay people."
Probst: "New York is full of gay people?"
Shannon: "They've got a lot them, Jeff. More than they do in Louisiana."
Looks like somebody's crushing. Anyone with that much of an interest in how many gay people populate one place or another has obviously been thinking about it — a lot.
Watch, AFTER THE JUMP…