Activist Peter Tatchell on the Pope protests:
And a video diary of the 'PRotest the Pope' march: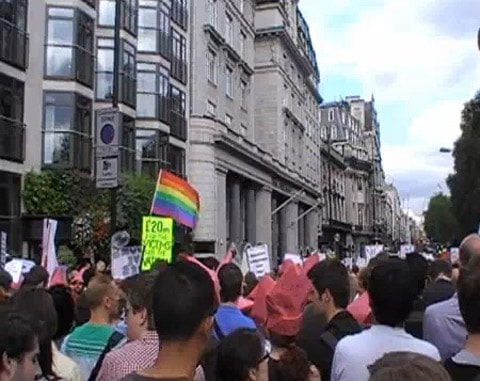 Thousands turned out in London over the weekend to protest Pope Benedict's visit to the UK.
Watch an excellent video diary on the march, AFTER THE JUMP…
The Press Association reports: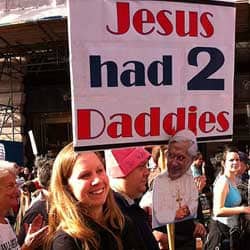 "Organisers said as many as 20,000 humanists, secularists and human rights campaigners took part in the central London march – ten times the number expected. They gathered to air their opposition to the Pope's teachings on a range of issues from gay rights and women priests to the use of condoms and clerical sex abuse. The demonstration ended with a series of speeches from humanist luminaries, during which eminent scientist Richard Dawkins rounded on the Pontiff as 'an enemy of humanity'. Protesters gathered near Hyde Park Corner for the Protest the Pope rally. Some held aloft banners stating: "The Pope is wrong – put a condom on" and 'Pope protects paedophile priests'. Among those in attendance was human rights campaigner Peter Tatchell, who hit out at the use of taxpayers' money being used to fund the visit. He said: 'The Vatican isn't a state, it is not recognised as a country by the UN. To give the Pope head of state status is wrong and to give him immunity against prosecution is wrong – no-one should be above the law.'"
Pink News also has a write-up.
Watch clips of Tatchell and the march, AFTER THE JUMP…