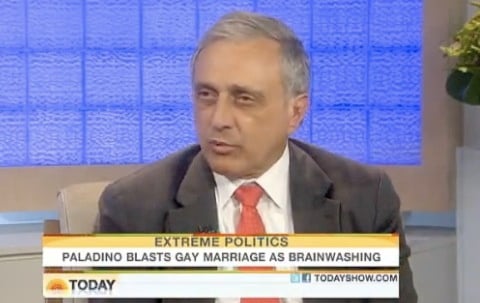 Carl Paladino launched an apology train today, one day after saying that he doesn't want gay people "brainwashing" America's children.
The New York gubernatorial hopeful appeared on both The Today Show and Good Morning America to clear his name, and declared to ABC's George Stephanopoulos, "I'm not a homophobic." Stephanopoulos didn't appear convinced, and presented Paladino with one of the most sticky question: "Do you believe homosexuality's a choice?"
Paladino, a Tea Party Republican actively courting conservatives, dug himself deeper:
I've had difficulty with that. My [out] nephew tells me he didn't have that choice. And I believe it's a very, very difficult life for a young person. I believe that young people should not necessarily be exposed to that without some really, really mature background first before, so they can learn to deal with it. It is a very difficult thing. And I sensitize with it totally.
Paladino again pinned the remarks on the rabbi who wrote his remarks, and apparently takes great pride in the fact that he wouldn't say one of the speech's lines, that gays are "dysfunctional." What a mensch.
As for Paladino's Today appearance, he took lots aim at the physical contact seen at gay pride, "I don't know if you've ever been to one, but they wear these little Speedos and they grind against each other, and it's just a terrible thing." And, then again, about opponent Andrew Cuomo taking his daughters to gay pride: "I don't think it's proper for them to go there and watch a couple of grown men grind against each other. I don't think that's proper. I think it's disgusting."
And rest assured that he has no regrets.
Watch Paladino squirm on two couches, AFTER THE JUMP…