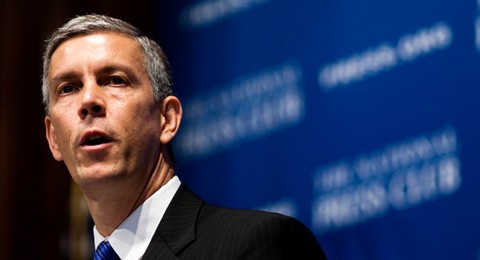 Education Secretary Arne Duncan released a refreshingly stern statement this afternoon about anti-gay bullying, which led to the suicides of at least four men this week:
This week, we sadly lost [four] young men who took their own lives for one unacceptable reason: they were being bullied and harassed because they were openly gay or believed to be gay. These unnecessary tragedies come on the heels of at least three other young people taking their own lives because the trauma of being bullied and harassed for their actual or perceived sexual orientation was too much to bear.

This is a moment where every one of us – parents, teachers, students, elected officials, and all people of conscience – needs to stand up and speak out against intolerance in all its forms. Whether it's students harassing other students because of ethnicity, disability or religion; or an adult, public official harassing the President of the University of Michigan student body because he is gay, it is time we as a country said enough. No more. This must stop.
I'm glad to see the Obama Administration addressing this horrific trend. I'm also hopeful that all of this attention, particularly around Tyler Clementi, will help this nation move toward a more inclusive, or at least considerate, future.