"What should the punishment be for acts like cyberbullying and online humiliation?" asked the New York Times' Joshua Schwartz over the weekend:
That question is as difficult to answer as how to integrate our values with all the things in our lives made of bits, balancing a right to privacy with the urge to text, tweet, stream and post.

And the outcry over proper punishment is also part of the continuing debate about how to handle personal responsibility and freedom. Just how culpable is an online bully in someone's decision to end a life?
New Jersey and other states' laws have never dealt with something of this nature, and there will no doubt be challenges in the future, as the Internet and virtual antagonism reach new heights. This creates a problem for those who believe the Constitution, and by extension our nation's laws, should remain rooted in the past.
Our nation has grown tremendously since its revolutionary founding, and it will only continue to grow. Our laws and reading of the Constitution need to grow with it.
But there's no easy answer to how far our laws and reading of the Constitution need to expand, because where do you draw the line? The Supreme Court will help answer that question today, when it hears the free speech-related case against the Westboro Baptist Church.
Our nation, however, will consistently struggle with these questions, and that includes Tea Party candidates, who are going to have to explain how they balance a changing world and age old legal interpretations.
Image via.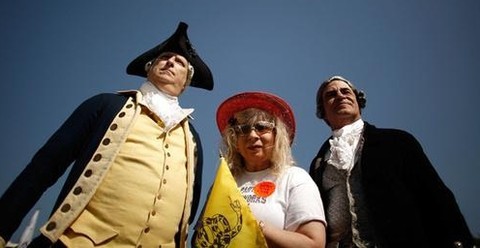 Rand Paul, Sharron Angle and other high profile Tea Party politicos often describe themselves as constitutional constructionists. That is, they favor a strict reading of our Founding Fathers' intentions, and our laws, state or otherwise, must reflect those ideals. Tyler Clementi and other cyber-bullying targets' suicides raises serious questions about the Tea Party's static perspective.
Dharum Ravi and Molly Wei, the two students accused of broadcasting Clementi's sexual encounter, thus sparking his suicide, are charged with invasion of privacy. As prosecutors work out the sordid and virtual details, however, the charges may be changed to include a possible bias, thus upping a potential sentence.
Regardless of how prosecutors proceed, the circumstances illustrate how common laws aren't always equipped for our evolving culture.