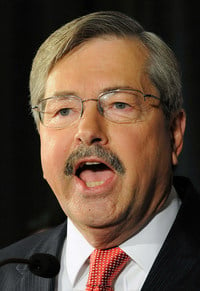 Iowa Gov. Chet Culver stood up for his his state's gay marriage law during a debate with Republican rival Terry Branstad last night.
Asked whether same-sex nuptials have had an impact on the state, Culver insisted, "It has not had an effect on the state of Iowa, other than allowing people to make their own decisions." He added, "We should not write discrimination into the Iowa Constitution."
Republican Terry Branstad, not surprisingly, disagreed, and insisted that Iowa voters should be given a vote on a constitutional amendment prohibiting gay love, which was approved by the state's Supreme Court in 2009: "The people of Iowa are the ones that should have the final say on this," proclaimed Branstad, pictured here. "They should be given the same opportunity as 31 other states and every state from Maine to California where it's been on the ballot, the people have voted for it."
Culver brushed off Branstad's remarks, saying, quite rightly, "We need to move on. We need to move forward. We do not need to add discrimination to our constitution, something that would only take us backwards on civil rights."
On a related note, Culver, who's trailing in the polls, will attend a dinner tonight for the Fairness Fund, which backs LGBT candidates.