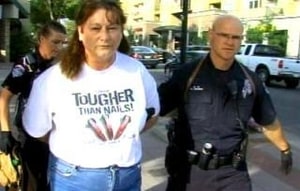 A woman allegedly went wild in Colorado over a painting depicting Jesus receiving oral sex from another man.
"How can you desecrate my lord?," Kathleen Folden reportedly screamed as used a crowbar to break the glass case around the art, called "The Misadventures of Romantic Cannibals" and on display in The City of Loveland, Colorado.
Folden, a truck driver from Montana, then allegedly shredded the piece before police nabbed her. She faces a $1,000-$2,000 fine for criminal mischief.
Artist Enrique Chagoya wasn't too pleased to hear the news, of course, and remarked, "I've never had this kind of violent reaction to my art. Violence doesn't resolve anything." It can, however, guarantee instant infamy for an artist, so perhaps there's a silver lining…