Ricky Martin made a surprise appeareance at last night's HRC dinner. He opened the ceremony with several light-hearted quips that reference his recent coming out: "you guys heard I'm gay, right? I'm not sure it made the news."
His speech also included words of inspiration and appreciativeness: "It took me a while, but tonight I'm here and I want to say that I want to add my voice to yours. And I'm so happy to be part of this community…I will honor your courage with my own and I can only be as insoiring to others as you have been to me."
As I reported yesterday, White House senior adviser Valerie Jarrett attended the dinner and several LGBT-related topics in her speech, such as DADT.
"Building a more perfect union means standing against anyone trying to write inequality into our laws and our Constitution – and repealing divisive and discriminatory laws like DOMA. And it means ending Don't Ask, Don't Tell once and for all. This is a promise the President has made in no uncertain terms.  For the first time in history, the Secretary of Defense has testified in favor of ending this policy.  For the first time in history, we have a Chairman of the Joint Chiefs of Staff who has argued forcefully for allowing gay men and women to serve their country without having to subvert their integrity. And for the first time in history, the House of Representatives has passed repeal.  Now we've got to keep pushing the Senate to do the right thing and get this done."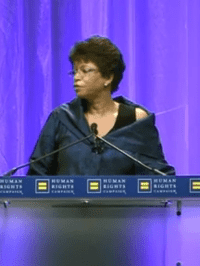 The family of Justin Aaberg was also present at the dinner. Said Jarrett about gay teen suicide: "Young people are our future. They need guidance.  They need our support.  And this responsibility is far too great to be shouldered by parents alone.  Our whole society has to step up and reaffirm our collective obligation to all of our children.  This includes the responsibility to instill in young people respect for one another. And we adults should set an example of mutual regard and civility ourselves." 
"No young person should have to endure a life of relentless taunts and harassment, just because they're gay.  On behalf of President Obama, I want to make clear that this administration is firmly committed to working with you and other advocates.  For we all have to ensure that we are creating an environment in our schools, our communities, and our country, that is safe for every person, regardless of sexual orientation or gender identity."
Watch video of both speeches AFTER THE JUMP.