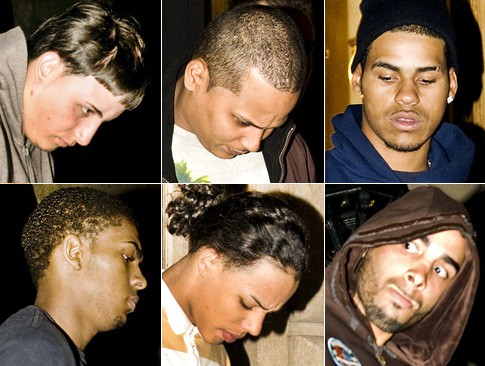 Some of the youths involved in the horrific torture of three gay men in the Bronx now say that they had no choice but to participate or else risk being harmed themselves. The New York Daily News reports:
The members of a sadistic Bronx crew accused of torturing a man and two teens because they were gay claimed the gang's leaders forced them to participate – or become victims themselves.

Police sources said several members of the Latin King Goonies told detectives they would have been slashed and beaten if they did not help torment the defenseless victims.

The threats were allegedly made by ringleader Ildefonso (Cheto) Mendez, who orchestrated the homophobic assaults after learning that a 17-year-old gang recruit was gay. That recruit was made to watch as they sodomized his older boyfriend with a miniature baseball bat – and the teen was then forced to burn his lover with cigarettes. The gangbangers sodomized the third victim, also 17, with the wooden handle of a toilet plunger.

It's being reported that some of the gang members went to so far as to disguise their appearance by shaving their heads in order to evade arrest. A ninth suspect, Ruddy Vargas-Perez (pictured right), is still at large.
This bit about suspect Bryan Almonte is from an article in The New York Times: "Genesis Suarez, who is 15, pregnant and referred to herself as Steven Caraballo's wife, said Bryan Almonte was her sister's boyfriend. 'If you bother him he gets mad, like everybody,' she said of Bryan. 'But he's a good guy.'"
Also frmo that same article are reactions from Mayor Bloomberg and Christine Quinn:
"Like many New Yorkers, I was sickened by these antigay crimes," Mayor Michael R. Bloomberg said Saturday afternoon. "The heartless men who committed these crimes should know that New Yorkers will not tolerate them."

Christine C. Quinn, the City Council speaker, who is gay, added: "These crimes are not jokes. They are not games. They are things that eat away at the fabric of our city."
Watch a video of the Bronx community coming together by distributing fliers related to the search of the suspects, AFTER THE JUMP.