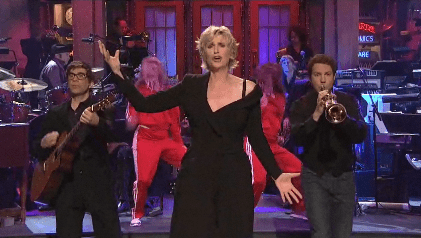 Jane Lynch opened up her outstanding hosting of last night's Saturday Night Live with what she jokingly referred to as a theme song she wrote for Glee.
Said Lynch: "I had the best idea – that I should sing the theme song. But then I was told Glee doesn't have a theme song. so I said, 'why not write one?' And they said 'no.' I took that 'no' as a 'yes.' I took out some sheet music, sharpened some pencils, drank a couple bottles of tequila. I blacked blacked out. When I came to, I had written a song."
Watch her perform the song via her Sue Sylvester persona, AFTER THE JUMP.
I've also included the clip of one of my favorite bits from last night – a clever parody of Christine O'Donnell's "I'm not a witch" ad. This one was "paid for by the coven to elect Christine O'Donnell, who is not a witch."