A big thanks to Andrew Belonsky, my other half here at Towleroad Michael Goff, Steve Pep, and our weekly columnists here for holding down the fort here during an unusually busy time.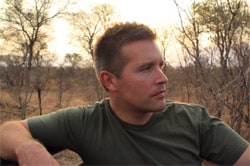 They allowed me to do something I haven't been able to do for almost twenty years – really disconnect myself from the grid and take a trip halfway around the world that — was really the trip of a lifetime. I've spent the past two weeks in South Africa filling my heart and soul with something other than the internet. That said, I haven't been totally cut off from the news. The infuriating and heartbreaking epidemic of anti-gay suicides have been covered internationally. I got back in town late yesterday and have been working to catch up on the tons of other news that has happened, so forgive me if I repeat something or am a bit cloudy. Jet lag!
That said, it's great to be back, and know that Towleroad has been looked after with care and interest while I've been away. I can't thank Andrew and Mike enough.
Once I get organized, I hope to share some of the things I did in SA with you all.