Florida's Department of Children and Families announced late Tuesday that it would not appeal the overturn of the state's ban on gay adoption, CNN writes: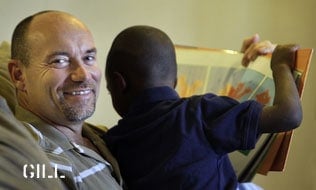 "The Florida Department of Children and Families announced Tuesday evening that the state agency would not appeal the September decision by the 3rd District Court of Appeals. 'We had weighed an appeal to the Florida Supreme Court to achieve an ultimate certainty and finality for all parties,' said Joe Follick, the department's communications director. 'But the depth, clarity and unanimity of the DCA opinion — and that of Miami-Dade Judge Cindy Lederman's original circuit court decision — has made it evident that an appeal would have a less than limited chance of a different outcome.' The appeals court opinion lifted a three-decade ban making adoption possible for gay men and lesbians in Florida statewide."
"The only way the case stays alive is if Attorney General Bill McCollum separately decides to appeal to the Supreme Court to keep the ban in place. He would have to do so without the support of the child welfare agency, which is changing its forms so adoptive parents aren't asked if they're gay…McCollum's office said he isn't sure how he will proceed, but his lawyers will talk with DCF's lawyers before a final decision is made. A decision to appeal must be made by Oct. 21."
Equality Florida notes that the religious right will likely mount a ballot campaign to attempt to reinstate the ban, of course, but here's the directive sent to agencies yesterday:
"Based on the ruling that the current law is unconstitutional, you are no longer to ask prospective adoptive parents whether they are heterosexual, gay or lesbian, nor are you to use this as a factor in determining the suitability of applicants to adopt. Focus your attention on the quality of parenting that prospective adoptive parents would provide, and their commitment to and love for our children."