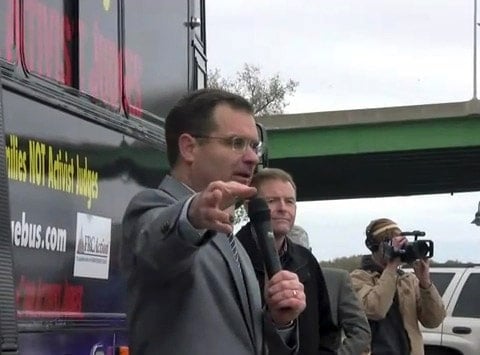 The evolution of Americans into God-fearing, illogical nitwits is a far greater threat than any threat to marriage, I think you'll agree after watching this clip of interviews of supporters of Iowa's campaign to oust pro-equality judges.
Featuring leading Iowa wingnut Bob Vander Plaats (the first person interviewed) and a host of others.
And yes, we are mocking you, idiots.
Watch, AFTER THE JUMP…
Related…
Watch: Insane wingnuts on the 'Judge Bus' tour.
Watch: Iowa NOM Supporter Equates Gay Marriage to Goat Marriage [tr]
Guide to the Tube: Iowa 'Judge Bus' Bigot Edition [tr]
Anti-Gay Hate Groups Launch Bus Tour Targeting Pro-Equality Judges in Iowa [tr]
Marriage Equality Under Attack in Iowa on Eve of Bus Tour [tr]