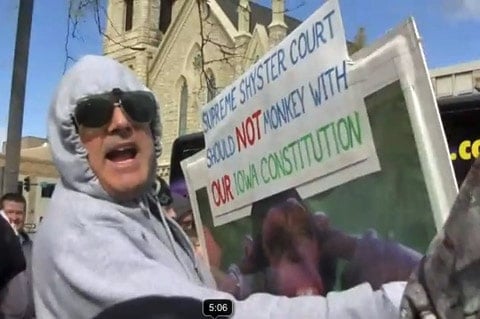 Check out a few interviews from the Courage Campaign's Iowa 'Judge Bus' tracker of Christian wingnut loonies outside various stops on the hate-a-palooza bus tour.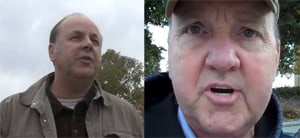 If you're not familiar with what's happening in Iowa, check out a few of my previous links below.
According to an email provided to Towleroad by journalist Rex Wockner, from Justin Uebelhor, Director of Communications from gay rights group One Iowa:
"The latest poll results show the race deadlocked at 36-35, with still a large pool of undecideds. On one hand, this gives us confidence that things haven't moved much even after nearly $500,000 in ads. On the other hand, it worries us because there are often a block of voters who just vote no by default on retention races….We do feel the energy on our side is picking up with great attendance at our Homegrown Justice rallies to counter the NOM/FRC Judge bus. At many stops, we've outnumbered the opposition 2-1 – resulting in some good media coverage in each town."
Watch the wingnuts go crazy, AFTER THE JUMP…
Previously…
Watch: Iowa NOM Supporter Equates Gay Marriage to Goat Marriage [tr]
Guide to the Tube: Iowa 'Judge Bus' Bigot Edition [tr]
Anti-Gay Hate Groups Launch Bus Tour Targeting Pro-Equality Judges in Iowa [tr]
Marriage Equality Under Attack in Iowa on Eve of Bus Tour [tr]