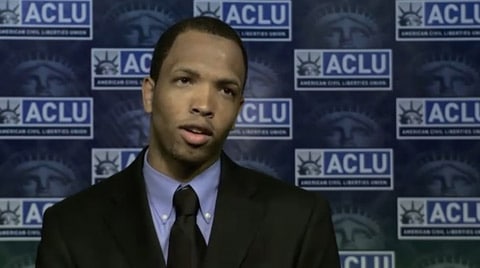 The ACLU has filed a lawsuit on behalf of Andre Cooley, a corrections officer in Mississippi's Forrest County, who was fired after supervisors discovered he is gay. 
From the ACLU complaint:
"On June 14, 2010, while Mr. Cooley was in his home, off-duty and out of uniform, his boyfriend became physically violent, prompting Mr. Cooley to call 911 for help. The official police report of the incident lists Mr. Cooley as the "victim" of the domestic violence. No charges or disciplinary proceedings have ever been filed against Mr. Cooley accusing him of domestic violence or any other misconduct. One of the officers who responded to the call was Defendant Charles Bolton, the Chief of Corrections. In response to Chief Bolton's questions, Mr. Cooley's boyfriend disclosed that he and Mr. Cooley were in an intimate relationship. Upon learning that Mr. Cooley was gay and in a same-sex relationship, Chief Bolton immediately told Mr. Cooley not to come back to work before reporting to his immediate supervisor. When he did report to his supervisor, Mr. Cooley was told he was suspended indefinitely. The next day, Defendant Donnell Brannon, Staff Sergeant of Jail Operations, informed Mr. Cooley that the Sheriff's Department had terminated him because of 'the type of situation' in which Mr. Cooley had been involved. Mr. Cooley asked Staff Sergeant Brannon whether he was being fired because he is gay. After a brief pause, Staff Sergeant Brannon responded, 'Yes.' On information and belief, Staff Sergeant Brannon subsequently told Mr. Cooley's co-workers that 'Cooley was fired because he turned out to be a faggot.'"
WDAM reports: "The lawsuit, filed Monday in federal court by the ACLU, claims the sheriff's department fired corrections officer Andre Cooley after discovering he was gay. Listed as defendants in the suit are Sheriff Billy McGee, Chief of Corrections Charles Bolton and Staff Sergeant of jail operations Donnell Brannon. The suit claims the firing violated Cooley's fourteenth amendment right to equal protection and due process in the termination."
Watch an ACLU interview with Cooley, AFTER THE JUMP…
Read: ACLU complaint (PDF).