AJ, a lesbian activist, and YouTube advice guru, who formerly served in the U.S. Army, went to Long Beach, California's recruiting office when "Don't Ask, Don't Tell" was briefly lifted earlier this week. AJ, who says she "would never pass as a straight woman," describes the scene she walked into to the folks at Autostraddle: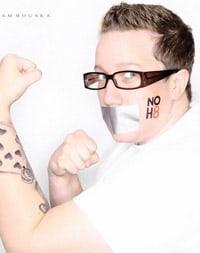 Within a few minutes of filling out the paperwork with the female recruiter I hear a male recruiter in the background say "…did you hear about Sergeant [inaudible], but it's okay for him to be a faggot now in the army!". Cue uproarious laughter from the other men. No reaction from the female recruiter in front of me.
It happens again. This time a different male recruiter to another: "Hey be careful driving home on the 405 [freeway]. I hear it's okay for gays to drive now. Do you have your AAA up to date for this!?" I'm now visibly uncomfortable. Finally, another comment: "Oh shut up you're so gay, but, wait, that's OK now!" At this point, I'm sure the female recruiter has heard the banter. I ask her who is in charge and she points over towards the corner where the jokes were coming from. To me, this clearly indicated that the sergeant in charge condones this type of behavior. I followed up with "Are the gay jokes OK in this office?"
She said, "I'll talk to them" and I replied "No, that's not cool. Is there anything else you need from me?" I had to walk through the group of bigots when on my way out.
I should have said something. I wanted to turn around and scream at them, but something was holding me back. I regret it now, but that's why I'm telling you my story.
AJ suspects this kind of behavior is not uncommon at recruiting offices around the country.