This story will certainly inspire.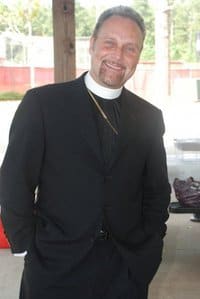 Earlier this month, Georgia Church in the Now megachurch leader Jim Swilley, who very recently divorced from his wife of 21 years, came out and he bravely did it in a very public forum – during a sermon in front of his congregation.
Swilley, a father of four himself, said that he was prompted to come out now due to the recent increased reports of gay teen suicides.
The Rockdale Citizen reported on his coming out:
For many church members, Swilley's coming out during last Wednesday's service was not a surprise. Swilley said he had been aware of his sexual orientation since a young age. He and his wife and co-pastor, Debye Swilley, separated about 18 months ago and have subsequently divorced after 21 years of marriage. A video of the service was posted to the church's website Saturday that shows Swilley explaining to his congregation that he needed to be himself to continue his ministry and that meant explaining his homosexuality and debunking rumors about him.

"There are two things in my life that are an absolute. I did not ask for either one of them. Both of them were imposed on me. I had no control over them," Swilley said. "One was the call of God on my life … the other thing was my sexual orientation."

Swilley gives a 50-minute talk in the video and says that his sexual orientation is something he has struggled with his whole life. He adds he was always attempting to come to terms with his orientation and his faith in God.

"It's like having blue eyes and saying that you can't have blue eyes," he said. "So I would put the contact lens in and say I don't have blue eyes … I was doing it not to hide something but to change something."

The announcement brought some immediate changes to the church, which celebrated its 25th anniversary in May. Swilley will no longer be referred to as a bishop after he agreed to step down from the College of Bishops of the International Communion of Charismatic Churches, a coalition of church ministries of which Church In The Now is a member.
In the candid sermon, which you can watch AFTER THE JUMP, Swilley carefully explains to his congregation how being gay is not a choice. He also clears up some rumors (no, he did not leave his wife for another man nor is he not involved in the Eddie Long scandal).
Swilley tells WSBTV in Atlanta that he would not be able to survive if there's a mass exodus of his church. You can watch video of that report, also AFTER THE JUMP.