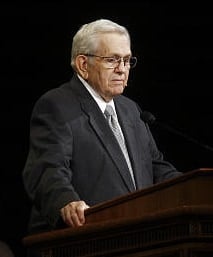 If you thought the Mormon Church had given up its anti-gay messaging, think again, for Boyd K. Packer, president of the Church of Latter-Day Saints, used a church conference this weekend to take not-so-subtle jabs at same-sex marriage.
"If we're not alert, there are those today who not only tolerate but advocate voting to change laws that will legalize immorality, as if a vote would somehow alter the designs of God's laws and nature," said Packer at the 180th Semiannual General Conference in Salt Lake City.
Though he never explicitly used the term "same-sex marriage," or even "gay," Packer definitely made himself loud and clear when he insisted that marriage should only be "shared only and solely between man and woman, husband and wife."
"To enter into any relationship that is not in harmony with the principles of the Gospel must be wrong," he claimed, which is kind of like saying, "Since I don't like peanut butter, it must bad, because I assume I'm always right." Well, we all know what happens when you assume…
Watch his speech, via Good As You, AFTER THE JUMP…