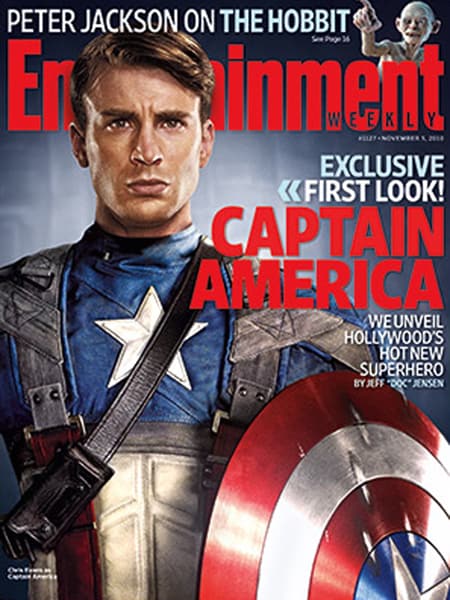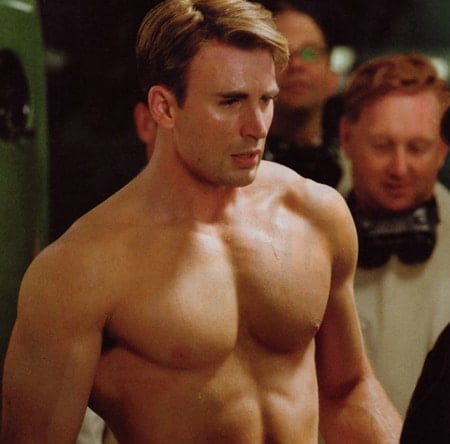 If that's your body why you gonna pout?
The former Human Torch has a new superhero incarnation, Captain America (Steve Rogers in civilian life) but we do know that the actor resisted this new identity for a good long while. According to EW, Evans explains it like so.
"At the time, I remember telling a buddy of mine, 'If the movie bombs, I'm f—-ed. If the movie hits, I'm f—-ed!'" After declining the part three times, Evans took a meeting with Marvel execs and Johnston and was dazzled by their plans for the movie. He still felt wary about suiting up for Captain America — but then he had an epiphany. "I was just scared," he says. "I realized my whole decision making process was fear based, and you never want to make a decision out of fear.'" Evans signed a six-picture deal with Marvel to play the character…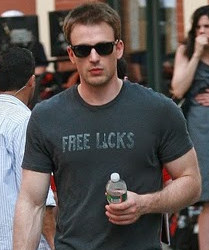 Six films is a big commitment. Not that any actor ends up doing that many but you have to lock them in… just in case. I'm already curious about the visual f/x they'll have to employ. Chris Evans has always had a superhero body without any costume padding necessary, but Steve Rogers (aka Captain America) starts out scrawny and physically unfit. They'll have to go to Benjamin Button lengths to make Evans convincing as a mere mortal before he becomes the Captain. 

This one is for the horror fans: Have you voted on the Battle of the Queer Creeps? 

Ryan Gosling and George Clooney on the screen simultaneously? Evan Rachel Wood and Marisa Tomei will also co-star in Clooney's new directorial project The Ides of March. Clooney continues to be a generous soul.

Two franchises got new titles this week. The next Batman feature will be called The Dark Knight Rises and the next in Tom Cruise's old series has the unwieldy name of Mission: Impossible 4: Ghost Protocol. Er… two colons in one title? Ah well, at least Jeremy Renner is in it.

A question for the gay parents out there: Did you name your baby after a movie star? Apparently that happens… a lot.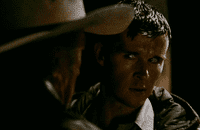 Ryan Kwanten, who most people know primarily as horny dim Jason Stackhouse on True Blood apparently doesn't believe in vacationing during his hiatus. He was just nominated at the AFI (Australian Film Institute) for his Season 3 work on True Blood (complete list of nominations), he has the crime thriller RED HILL coming out next week (pictured right, in which you can hear him with his actual accent) and now he's been cast as the notorious serial killer Charles Manson in a new film called The Family. 

And let's end with the trailer to the Stephin Merrit rockumentary STRANGE POWERS which just opened at New York City's Film Forum. To know him (i.e. his music) is to love him.
Plus, Cher AND Olivia Newton-John jokes in a trailer?
Oh Stephin, you spoil us.