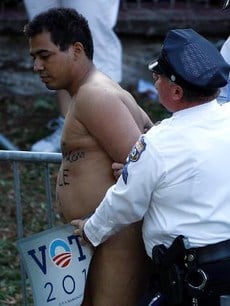 Isaac Katz, son of Jonathan Katz, the Washington University professor whose essay, "In Defense of Homophobia" got him booted from the government's oil spill team, has come out of the closet: "When I told my dad I was gay, his immediate response was, "No, you're not." (My mom, by the way, was and is more supportive.) When my insistence finally overrode his denials, he echoed his online essay that I should deny who I am rather than to engage in an act so abhorrent as to love another man… To me, though, it is undeniable that removing him from the team for reasons unrelated to his scientific knowledge, academic credentials or intellectual capacity was a mistake."

The Gay and Lesbian Victory Fund has named "Ten Races to Watch," which means the candidates are LGBT and could use a little boost.

President Obama and Joe Biden's rally in Philadelphia was quite a scene: first there was a streaker, and then someone threw a book at the President's head. Guess which one was arrested? [Answer: the streaker.]

New York gubernatorial candidate Carl Paladino, suddenly infamous for his gay "brainwashing" remark, has some allies. Unfortunately, they're people like anti-gay activist Bryan Fischer, who thinks believes everything Paladino said "is so true and so evident and so obvious that the real controversy here is that there is any controversy at all."

New York City Mayor Mike Bloomberg does not approve of Carl Paladino's remarks, saying, "[His speech is] not what America stands for and it's not what New York stands for, and I won't dignify it with anything else." The Mayor was then asked whether he thinks Paladino's fit to serve, to which Bloomberg replied, "I don't think I want to dignify comments like he's made, and I'll leave it at that." That's saying enough…

Will future generation of smart phones be "squishy?"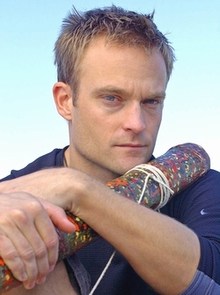 Actor Chad Allen has a message for coming out day: "I have long held the belief that those of us who are gay, lesbian, bisexual or transgender have been given an extraordinary gift. We are forced to go inside ourselves and determine, once and for all, that we are good. If we have anything at all to give the world, we are going to find it somewhere along that journey."

Diana Ross also has something to say about "coming out."

Sarah Palin hinted at a White House run this weekend, when she compared herself to another "unelectable" politician, Ronald Reagan. She also invoked the conservative icon in a message for Carly Fiorina: "This is still Reagan Country," she said of California.

Congratulations Joe Jervis for winning the Ali Forney Center Advocate Award.

Authorities describe a fire at a gay bar in Knoxville, Tennessee, as "suspicious."

Speaking of Carly Fiorina, the California Senate candidate spent some of her weekend downing tequila with Latino voters and another Republican candidate, Meg Whitman, who's running for Governor. Yes, beer on blue-collar "Main Street" and tequila with Latinos: the tradition of getting drunk with constituents just gets better and better…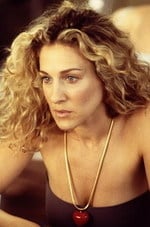 European Union officials say that Serbia's "failure" to prevent anti-gay riots during pride this weekend may hinder its chances at joining the Union. The United State embassy, meanwhile, praised Serbian authorities for protecting gay rights marchers.

 Saud Abdulaziz bin Nasser al Saud, the Saudi prince accused of murdering his servant and alleged lover, had an erotic massage just three days before the incident – yes, with a male masseuse – say witnesses at his trial, where he denied being gay.

Sarah Jessica Parker left the option of a third Sex and The City movie open…

Take a first look at Glee's homage to Rocky Horror, guest starring John Stamos.