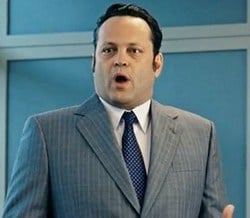 GLAAD has upped the ante in its battle against Universal Pictures. The movie studio agreed last week to remove a "that's so gay" joke from the trailer of its upcoming comedy, The Dilemma.
Though GLAAD made a removal request more than a month ago, it only took a casual reference from Anderson Cooper to get the job done. Now GLAAD wants the joke removed entirely, and put up an online petition asking concerned citizens to voice their disapproval.
"Contact Universal Pictures and urge its representatives to remove offensive anti-gay language from the upcoming movie, The Dilemma. Tell them that phrases like 'that's so gay' are extremely damaging and contribute to putting young people in harm's way. Teen bullying is no joke," reads the petition. "Unfortunately the company has refused to agree to remove the scene in the movie before its January release date. Moreover, after promising to remove the anti-gay trailer, Universal has reportedly still not removed the trailer from theaters." The trailers have been changed online, and Universal insists it will switch out the in-theater previews next week.
Now, our dilemma: Do we pressure a movie studio to remove a joke from what sounds like an adult comedy — "A man discovers that his best friend's wife is having an affair." — or let people make the decision about whether or not they want to see the flick, directed by Ron Howard and starring Vince Vaughn and Winona Ryder?