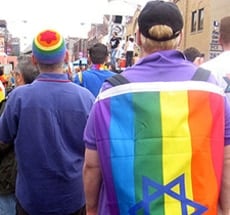 A Jewish paper in New Jersey caused a controversy among its readers by publishing news of a gay engagement last week.
Hoping to put the drama to rest, The Jewish Standard's editorial team published a letter today explaining that while some readers were supportive of the same-sex inclusion, the paper's buckling to religious pressure:
Given the tenor of the times, we did not expect the volume of comments we have received, many of them against our decision to run the announcement, but many supportive as well.

A group of rabbis has reached out to us and conveyed the deep sensitivities within the traditional/Orthodox community to this issue. Our subsequent discussions with representatives from that community have made us aware that publication of the announcement caused pain and consternation, and we apologize for any pain we may have caused.

The Jewish Standard has always striven to draw the community together, rather than drive its many segments apart. We have decided, therefore, since this is such a divisive issue, not to run such announcements in the future.
Ironically enough, the editorial came complete with the standard disclaimer: "The views in opinion pieces and letters do not necessarily reflect the views of The Jewish Standard." In this case, they do…