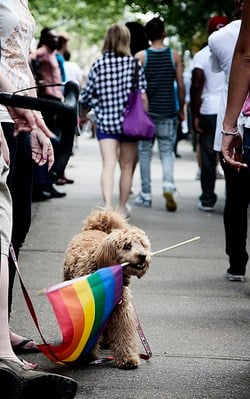 From a grassroots rebellion to a full-on political force, the Tea Party has become more than a political movement; it's a cultural trend, and has integrated its message into almost all aspects of society, even the family dog.
Missouri's Tea Party has redoubled its efforts to fight the Humane Society-backed Proposition B, which would shut down puppy mills, farms used to supply pet stores with adorable new products. There are about 3,000, or about 30% of the nation's puppy mills, currently in operation in Missouri, says the Humane Society.
The Tea Party and the interest group Alliance For Truth see puppy mills a bit differently: they're an essential part of the free market and "the society seeks only to raise the cost of breeding dogs, making it ever-more difficult for middle-class American families to be dog-owners."
To prove how serious they real are about mass producing man's best friend, the Tea Party has brought in none other than Samuel "Joe The Plumber" Wurzelbacher, the blue-collar conservative made famous by the McCain campaign.
Joe, known also for being homophobic, asks the same question our Founding Fathers did, "Should the government have the right to limit the number of houses a realtor can sell? Or the number of cattle a rancher can raise?"
He goes on to accuse the Humane Society and other animal rights activists of "cowardly hiding behind animal cruelty, lying to our citizens and taking our constitutional rights away – one state at a time."
From gays to fruits to dogs: our nation's culture wars know no bounds.
Image via RockMixer's Flickr.