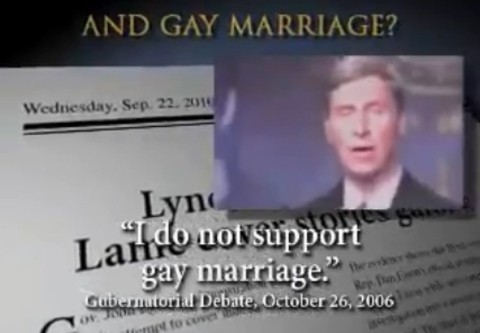 The National Organization for Marriage threw itself even further into New Hampshire's gubernatorial race today by releasing an ad attacking Governor John Lynch for signing gay marriage into law.
The commercial and radio campaign, called "He's Changed" and put out with the "family friendly" group Cornerstone Action, takes aim at Lynch for switching gears on a range of issues, such as prisoner parole terms and taxes, and, yes, gay marriage, which Lynch said he opposed in a debate four years ago.
NOM leader Brian Brown released a statement in conjunction with the ad's release, and said, "When John Lynch lied and betrayed the voters of New Hampshire by signing the same-sex marriage bill NOM vowed to hold him accountable. Unlike John Lynch, we keep our promises."
The Lynch campaign insisted the governor hasn't changed and described him as a "thoughtful" politician who listens to his constituents: "He listens to people as he did on the marriage law. He's provided the steady leadership to get us through these tough times."
NOM and Cornerstone Action's campaign cost them $450,000. That's in addition to the $200,000 NOM spent earlier this year attacking Lynch. All that money may have been a complete waste, because NOM's preferred candidate, Republican John Stephen, trails Lynch by about seventeen points.
Watch the new commercial, AFTER THE JUMP…