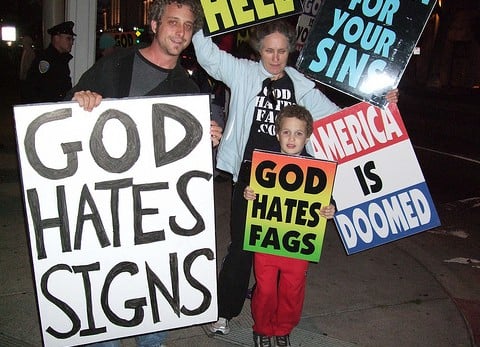 Students from Pennsylvania's Trinity High School School are probably pretty thankful for the Westboro Baptist Church right about now, because school officials approved an early dismissal ahead of the fundamentalist church's planned protest today.
Superintendent Paul Kasunich wasn't quite sure why the Topeka-based church would come after their school, other than the fact that it could be perceived as Catholic, when in fact it's quite nondenominational.
The WBC's website doesn't offer very many clues, other than their belief that, "The parents and teachers across this doomed nation raise their children…for the devil himself. The so-called adults teach the students to be vain, selfish, sinful, violent, lusty, God-hating, brats who turn the grace of our God into lasciviousness."
Officials closed the school to "keep students safe," WPXI reports. Westboro, meanwhile, however, has five other protests in four different states planned for today. And they're appearing at the Supreme Court. That congregation sure gets around…
Now, the question: should students be given a shortened day because of these protesters, thus robbing Westboro's actions of an audience and impact, or should pupils be encouraged to evaluate the church's tactics and messages on their own?