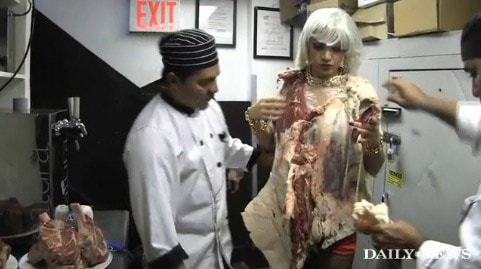 New York's Old Homestead Steakhouse has ignored the warnings of hypothermia, blood, and maggots from NJ butchers and created a Halloween Lady Gaga meat dress worth more than $100,000, the NY Daily News reports:
His team went to the cutting board and cooked up the result: a vestment made of porterhouse, leggings from rib eye and kobe beef boots, all USDA prime.

"It smells so good," said Mery Lopez, 26, a waitress-turned-model who bravely posed yesterday with the edible attire. "It's heavy, but not that much."

The kitchen crew stitched it all together using butcher's twine and accessorized the look with a necklace of marrow bones topped with a 32-ounce rib eye chapeau.
Gag, and not in a good way.
Watch a video, AFTER THE JUMP…