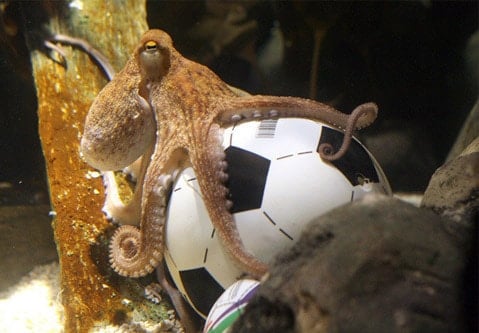 Paul, the "psychic" octopus who became famous during this year's World Cup, has died at the age of 2 in Germany:
"Management and staff at the Oberhausen Sea Life Centre were devastated to discover that oracle octopus Paul, who achieved global renown during the recent World Cup, had passed away overnight."
"Paul's body is now in cold storage while the aquarium decides 'how best to mark his passing,' the facility's manager, Stefan Porwoll, told The Daily Nation of Kenya. 'We may decide to give Paul his own small burial plot within our grounds and erect a modest permanent shrine,' he said. 'We are consoled by the knowledge that he enjoyed a good life here,' Porwoll also told ESPN. Before he died, Paul's final prediction was that England would win the rights to host the 2018 World Cup."