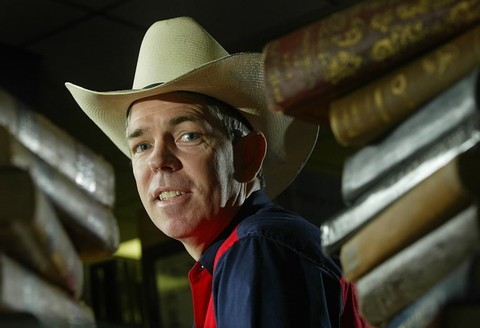 Evangelical radio host David Barton wondered yesterday why the United States, with its various governmental branches, doesn't start "regulating homosexuality."
We have a Department of Health and Human Services; we have health care bills; we have health insurance and we're trying to stop all unhealthy things so we're going after transfats and we're going after transparency in labeling to make sure we get all the healthy stuff in there," said Barton, a Christian nationalist who backed Florida Congressional hopeful Dan Webster, inadvertently providing the subtext for Democratic Rep. Alan Grayson's "Taliban" attack ad.
Barton, a frequent guest on Glenn Beck's program, continued with his extreme logic: "So if I go to the Centers for Disease Control and I'm concerned about health, I find some interesting stats there and this should tell me something about health. Homosexual/bisexual individuals are seven times to contemplate or commit suicide. Oooh, that doesn't sound very healthy. Homosexuals die decades earlier than heterosexuals. That doesn't sound healthy."
His conservative conclusion? "[Gays] go through all this stuff, sounds to me like that's not very healthy. Why don't we regulate homosexuality?"
The many candidates and politicians with whom Barton has worked, including Marco Rubio, Newt Gingrich and Sharron Angle, should be asked what they think of his plan, especially in relation to the Tea Party's small government ideology.