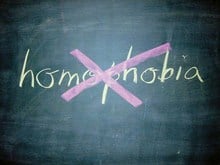 Christopher Hagen, a 19-year old student at the University of Rhode Island, was detained last night after leaving blatantly anti-gay threats on a fellow student's door.
"You are gay, get out of Barlow [Hall] before you regret it." Hagen wrote on a dry erase board, next to a picture of a penis, leading campus police to charge him with misdemeanor vandalism and disorderly conduct.
In the wake of four gay suicides this week, including Rhode Island student Raymond Chase, it's nice to see officials taking this matter seriously, rather than just dismissing Hagen's actions as a fluke.