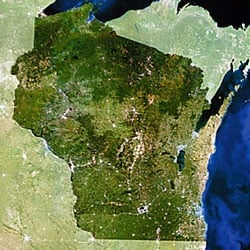 Wisconsin's domestic partnership registry went into effect this summer, and it wasn't long before social conservatives filed a lawsuit to overturn the equality-minded measure.
Well, their suit may not get too far, for five gay couples and the group Fair Wisconsin today filed a motion to intervene against the conservatives.
A gay rights group and five gay couples are hoping to defend Wisconsin's domestic partner registry against a legal challenge.

Fair Wisconsin and the couples filed a motion Friday asking to intervene in the lawsuit brought by Wisconsin Family Action in August.

The lawsuit seeks to strike down the registry created by lawmakers last year that gives same-sex couples some legal rights such as the ability to visit each other in the hospital and take medical leave to care for an ill partner.

The lawsuit brought by the social conservative group argues the domestic partnerships are too much like marriage and conflict with Wisconsin's ban on gay marriage.

Fair Wisconsin and the couples on the registry say it is constitutional and they need the limited legal protections the law gives them. 
According to Fair Wisconsin, the domestic partner registry grants same-sex couples a scant 43 of the 200 rights afforded straight married couples under state law.