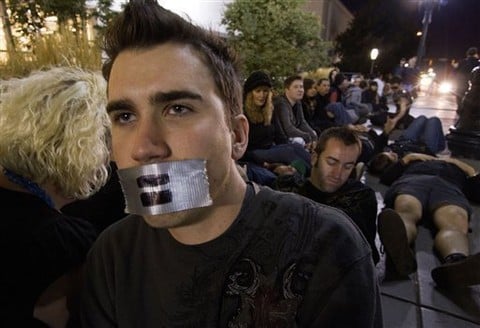 Salt Lake City police estimate that about 1,000 people showed up for a silent protest outside the Mormon Church's headquarters last night. Organizers, however, claim about 4,500 showed up for the action, sparked after Mormon leader Boyd Packer described homosexuality as "not in harmony with the principles of the Gospel" last weekend.
"We want to tell men like Boyd K. Packer that we are tired of watching our children die. There are consequences to your words," said Pride In Utah editor Eric Ethington. "You cannot change us, we cannot change ourselves and the more you try, the more dead bodies you leave behind. Stop." Ethington and his peers, dressed all in black, lied on the ground outside the Mormon headquarters to illustrate gay teens who have been bullied to death.
The church released a statement, saying, "Those familiar with the Church's doctrine on the importance of marriage and family know it is based on principles of respect and love for all of God's children," insisted spokesman Scott Trotter. "We have continually emphasized that there is no room in this discussion for hatred or mistreatment of anyone." If Packer's any indication, they're not doing a good enough emphasizing that point.