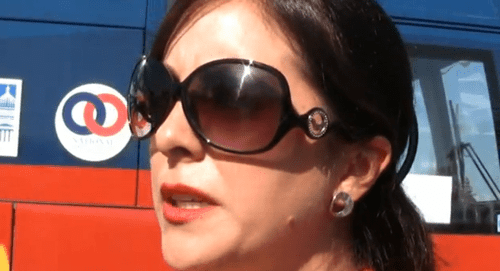 Former 2008 San Francisco Pride Parade Queen Karyme Lozano was briefly part of NOM hate-a-palooza last week. Lozano, a Mexican soap opera actress says that she's not judging anyone and only supports traditional marriage.
According to Prop 8 Tracker, Lozano tweeted on Thursday that she's abruptly leaving the tour: "Fresno is my last stop on the bus tour and then hone. Yeah! I will see my mom, my baby and my own bed!"
Watch as Lozano is pulled away by NOM employees when she is asked specifically why she supports an organization that has done so much to prevent marriage equality. The interview is AFTER THE JUMP.