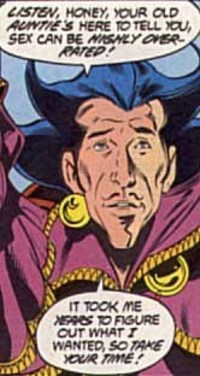 While science nerds are pondering the gay brain, comic book nerds should devote their resources to answering one of funny books' long-standing questions: Was Extraño gay?
Most comic book historians, a growing field, cite Marvel's Northstar as the first out mainstream hero. Others, however, argue that DC's magically powered Extraño, introduced as part of the 1988 crossover, Millennium, deserves some same-sex recognition.
There's much fuel for the rumors surrounding Extraño's sexuality. For example his over-the-top attire and flamboyant attitude, often featured for comedic effect, coupled with the English translation of his name, "Strange," had many fans wondering whether the character was a hit against homosexuals.
Though Extraño's image was eventually "butched up" a bit, his ambiguously gay backstory took a troubling turn when the hero was bitten by a "Hemo-Goblin," and later revealed to be HIV-positive. Writers never fully explained whether that goblin was the catalyst for his infection.
Extraño disappeared from DC's pages in 1992, but his legacy, and the mystery surrounding his private, off-page life, remains.