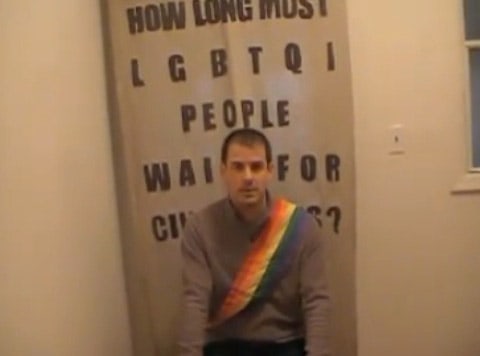 NYC gay activist Alan Bounville has stepped up a campaign to persuade Senator Kirsten Gillibrand, a staunch supporter of marriage equality and a proactive advocate of DADT repeal, to file a bill adding gays and lesbians to the 1964 Civil Rights Act.
Bounville is so determined that he has been holding daily vigils in front of her campaign office for weeks, and on the day of the election began a hunger strike.
On Oct. 11, the vigil was expanded to a 24-hour protest and ended early Tuesday morning when Bounville started his hunger strike at an undisclosed location.
On Tuesday night, 18 hours into the fast, Bounville spoke to DNAinfo over the phone.
"I have a bit of a headache," he said. "What's keeping me going is these visualizations of Tyler Clementi jumping off that bridge. I keep replaying that in my mind." 
"The issue is full civil rights right now," he explained, in contrast to the more narrow, targeted battles favored by many mainstream LGBT advocacy groups such as marriage equality, the repeal of "Don't Ask, Don't Tell," and anti-bullying bills.
"None of this piecemeal, convoluted stuff," he said.
But even within the LGBT community, many believe that a campaign like Bounville's should wait for a time when there is broader congressional support.
"You can count on one hand the number of members of the Senate that supports this idea," Richard Socarides, a Chelsea-based gay and lesbian civil rights attorney and former White House advisor to President Clinton, said at the start of the vigil.
"Senator Gillibrand has been probably our strongest advocate for gay and lesbian civil rights in the entire federal government," he added.
Bounville was arrested in May with five other activists after chaining himself to the White House fence in a DADT protest. He was also arrested at a protest in February outside the NYC marriage bureau, demanding licenses be issued to same-sex couples.
In a video recorded at the beginning of his 'Civil Rights fast' on Tuesday, Bounville claims that Gillibrand is not a "friend" of the LGBT community — because no politicians are:
"Many people will say that Kirsten Gillibrand is our friend and that couldn't be further from the truth. Our United States Senators, our President, anybody, our House members, local politicians — none of them are our friends. They are, at best, our employees. Now if someone were to say, 'I think Kirsten Gillibrand is my friend,' my response to them would be 'well then you want her to be your friend.' I don't want my senators to be my friends. I want them to do the work that they are put into office to do."
Watch Bounville's video, AFTER THE JUMP…