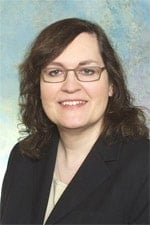 Victoria Kolakowski, who would become the nation's first transgender judge, holds a slight edge over her opponent John Creighton in an Alameda County Superior Court election, the SF Chronicle reports: 
"Kolakowski, an administrative law judge for the state Public Utilities Commission, led Creighton, a deputy district attorney, by 50.22 to 48.77 percent, or 3,300 votes out of 230,000 total votes cast, the county registrar's office reported. All precincts have reported, but provisional ballots and late-arriving mail ballots were still being tallied. The registrar's office had no estimate of the number of uncounted ballots or when they would be counted. The candidates are seeking a six-year term in the seat vacated by Judge Stephen Dombrink, who is retiring."
Kolakowski, who married her partner when it was legal in California in 2008, transitioned in 1991.