Laine Tadlock, the education program director at Benedictine University in Springfield, lost her job because she mentioned it in an announcement of her marriage to her partner Kae Helstrom in The State Journal-Register, that newspaper reports: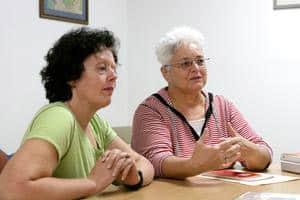 Tadlock left the program Oct. 28. The university says Tadlock resigned. Tadlock says she didn't.
The wedding announcement, which included Tadlock's position at Benedictine, a Catholic-sponsored university, appeared in the newspaper July 11.
In a Sept. 30 letter to Tadlock's attorney, Benedictine President William Carroll wrote, "… By publicizing the marriage ceremony in which she participated in Iowa she has significantly disregarded and flouted core religious beliefs which, as a Catholic institution, it is our mission to uphold."
*****
According to documents Tadlock furnished to the newspaper, the university offered her an early retirement deal Aug. 27 under which she would have been paid one year's salary, two-thirds of her salary the second year and one-third the third year. The offer also included a confidentiality clause prohibiting Tadlock from talking publicly about what had happened, as well as a waiver prohibiting her from filing suit against Benedictine.
Tadlock and her attorney, Richard Frazier of Springfield, made a counter-offer. They were told there would be no negotiations, Tadlock said. She refused the university's early retirement offer.
In a Sept. 7 e-mail and letter to Frazier, Wolf wrote that if Tadlock would not accept early retirement, then "most likely (the university) will decide to terminate your employment due to incompatibility with the University's essential mission." The e-mail was also sent to Carroll and Bromberg.
The University knew about the marriage, but forced Tadlock out over the mention of Benedictine in the announcement.