The Illinois Assembly is set to take up a civil union bill (Senate bill 1716) on Tuesday, and on Sunday mayoral candidate Gery Chico met with gay leaders and expressed his support for the bill, telling them he would call lawmakers and lobby for it, the Sun-Times reports: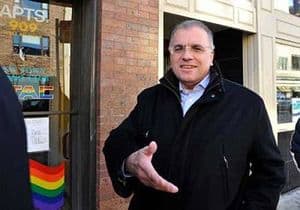 "Chico said he would spend time today reaching out to state legislators and urging them to support the bill. 'This is a civil rights issue,' Chico said. 'It's just that easy. And it's not the end of the line but the road to looking at same-sex marriage.' When Chico ran for U.S. Senate in 2004, he was the only candidate who supported gay marriage, said Rick Garcia, director of Public Policy at Equality Illinois. 'Long before it was popular and the politically correct thing to do, Gery stood with the gay rights community.' Chico said as mayor he would advocate for domestic partner benefits and the repeal of Don't Ask, Don't Tell. He also said he would work on behalf of the LGBT community in other areas, including equal employment, economic development, community partnerships, HIV/AIDS issues, transgender equality and hate crimes."
Senator Carol Moseley Braun (D-Ill.),Rep. Danny Davis (D-Ill.), and state Sen. James Meeks (D-Chicago) are also in the mayoral race.
Front-runner Rahm Emanuel has also expressed support for the civil union bill.