Outserve, an underground network of actively serving LGBT members of the U.S. military, today made public contact information and international locations of its 27 chapters.

According to the group, "OutServe currently has more than 1,200 members worldwide. The organization's largest regional chapters are those in Southern California and Germany, with 110 and 83 members, respectively. OutServe's Afghanistan/Iraq chapter has 50 members. The organization¹s average chapter size is 45 members."
The group's international chapters include Afghanistan/Iraq, Cuba, Diego Garcia, Germany, Guam, Italy, Japan, Kuwait, and the United Kingdom.
It also has 18 chapters within the U.S. including Alabama, Arizona, Colorado, Florida, Georgia, Kansas, Nebraska, New England, North Carolina, North Dakota, Northern California, Oklahoma, Service Academies, Southern California, Texas, Virginia, Washington State, and Washington, D.C.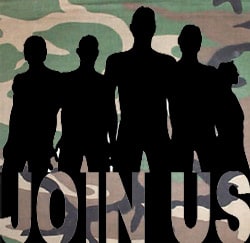 Said JD Smith, OutServe co-director: "Making OutServe chapters available in these hopefully last critical weeks of the "Don't Ask, Don't Tell" debate will allow the media access to speak confidentially with gay and lesbian service members and regional OutServe leadership, who will be able to talk about their hopes and plans for a post-DADT military, one where they can serve openly and with integrity. Post-repeal, we anticipate these chapters will serve as points of contact for military personnel who wish to reach out to actively serving gay and lesbian military members as a resource and as colleagues.
Outserve, you may recall, received condemnation from SLDN, Servicemembers United, HRC and the Center for American Progress after it released a joint statement with The Palm Center and Knights Out, suggesting it would support passage of a Defense Authorization bill stripped of the 'Don't Ask, Don't Tell' repeal provision.
Smith later denied that's what the groups were saying:
"Let us be clear on where we stand as we begin this lame duck session. Nowhere do we call for repeal to be stripped from the NDAA. No matter what, we will be soldiers in this fight and the real issue is this: while people like Senator McCain continue to demonize us as unpatriotic and disloyal soldiers, we will stand strong with our fellow military members. Unlike Senator McCain, we refuse to abandon our comrades at a time when this country is dealing with multiple military conflicts. Senator McCain should be the target of the blame for the continued stalling and distractions during this process, and is responsible, ultimately, for perpetuating discrimination against gay and lesbian service members. In the past few years on active duty, my greatest support has come from straight active duty service members. They have stood by me when leadership tried to investigate me under DADT and risked their careers in order to protect me. They have been the rock of my support over the years. As a gay man and a proud member of the military, I have two dogs in this fight. It is incredibly painful to see how politicians – especially Senator McCain – will play politics with the lives of patriotic Americans, gay and straight."