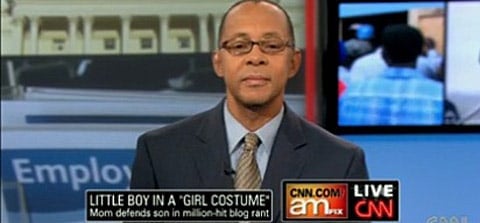 Dr. Jeff Gardere, the psychologist who scolded a mother last week for "outing" her son on a blog, has apologized after his remarks, that it's the "worst nightmare" of both heterosexual and gay couples "to have to fathom that their child might be gay," sparked outrage among many viewers.

In a statement to AfterElton, Gardere says he accepts full responsibility and offers a full apology, and this explanation:
"What the full statement should have been and what I always say because I do work with straight and gay parents, it is a real issue for them because they are afraid, and this is the part I didn't say and what I should have said, and you can go back and research it and you'll see that I've said it in every other place. And that is my fault and I accept complete responsibility for not saying that. Those parents, even gay parents say it, as controversial as that will sound, do not want their children to have to deal with the pain and the isolation and a lot of the emotional trauma that they have to go through as far as coming to terms with their sexuality. They know that they went through it and they prefer that their kids not go through it. And that's what the full statement should have been…It was never my intention to criticize this mother. I think what she did as far as supporting her child and allowing him to express himself in anyway possible is 100% admirable. I think at this point in our history this is what more people need to be able to do, to step up in that way." 
Gardere adds: " I was absolutely wrong and I understand why people are upset about it and I need to learn from that situation. Again, I accept full responsibility and offer a full apology."
Previously…
Watch: CNN Psychologist Scolds Mom for 'Outing' Son Who Wanted to Dress as Daphne on Halloween [tr]