The Colombia Constitutional Court today rejected a lawsuit that would have legalized same-sex marriage there: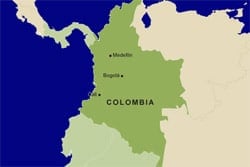 The Consitutional Court ruled that the request filed by two attorneys for equal rights for gay couples was flawed and presented in an irregular manner, La FM radio reports.
The president of the Constitutional Court, Judge Mauricio Gonzalez Cuervo, said that "nothing is final, and it is possible to insist on civil marriage for same sex couples in front of the court, but with more detailed arguments because this article will play a vital role within Colombia's constitution."
Gay rights groups are planning a protest, CNN reports:
Protesters are planning to gather in the central square of Bogota, the nation's capital, Friday, said Yeiler Manuel Tapia Barrios, an activist from the coastal town of Baranquilla.
"We feel that they are violating our rights as citizens. We also pay the same taxes," said Tapia, 24.
After a hearing Thursday, Colombia's Constitutional Court voted 5-4 to dismiss a lawsuit arguing for a change in the country's civil code that would allow same-sex marriage in the South American country, claiming there was not sufficient evidence to proceed, CNN affiliate Caracol TV reported.
The lawsuit, filed in September 2009, aimed to change the definition in the country's civil code which defines marriage as "a solemn contract through which a man and a woman unite," Caracol said.
Felipe Montoya, the lawyer who filed the suit, wanted judges to eliminate the expression "man and woman" from the code, Caracol reported. But the court ruled that the lawsuit did not have sufficient legal arguments for the court to take the case.