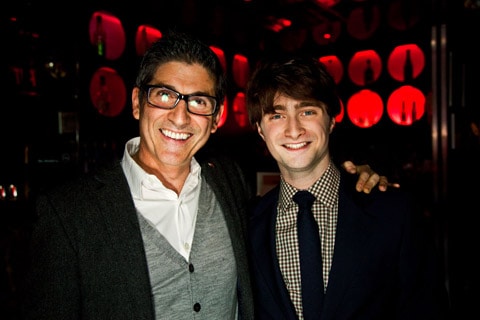 Daniel Radcliffe attended the premiere of Harry Potter and The Deathly Hallows last night in NYC, and afterwards headed to Chelsea to Elmo restaurant and bar to hang out.
Elmo owner Bob Pontarelli sends us this shot:
"After the Harry Potter premiere, Daniel Radcliffe celebrated with his friends at the restaurant's private lounge. Joining Daniel were James Lecesne (above), co-founder of The Trevor Project, Rose Hemingway, his leading lady in Broadway's upcoming production of 'How to Succeed in Business Without Really Trying' and Susan Blackwell, who recently directed the Broadway 'It Gets Better' video."
You may recall Radcliffe gave a big donation to the Trevor Project earlier this year and also filmed a PSA.
(photo Jazzmine Beaulieu)