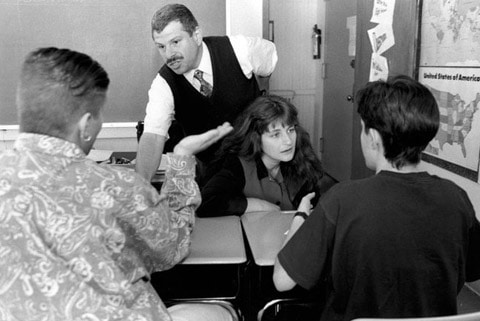 Good teachers are rarely recognized for the true heroes they are.
Sounds like Fred Goldhaber, the first teacher at NYC's LGBT Harvey Milk School, was a great one:
"Mr. G. — Fred Goldhaber, the first and, for four years, the only teacher at the Harvey Milk School in Manhattan, the first school in the country with a mission to provide a haven for gay and lesbian students, died of liver cancer on Monday at his home in Jersey City. He was 63…Stephen Phillips, a professor of education at Brooklyn College who was the city's superintendent of alternative high schools and programs when the Milk School opened, observed Mr. Goldhaber in action. 'The kids idolized him,' Mr. Phillips said. 'Many of them never would have gotten diplomas had it not been for the way he treated them.' When his brother walked the city's streets, Richard Goldhaber said, 'time after time' students 'would stop him, hug him and thank him for rescuing them.'"
Who were they?
"Among Mr. G.'s first students back in 1985 were runaways who had been sleeping in a shed down by the docks in Lower Manhattan where the city stored mountains of road salt. One boy had hitchhiked from Ohio after eight teenagers dragged him into a bathroom at school, bashed his head against a toilet and burned his arm with a cigarette lighter. Another boy, from New York City, had been abused by his parents after a teacher told them he was 'acting like a faggot.' He was kept at home for a year — chained to a radiator, beaten and taken by his father to 42nd Street and forced to have sex with men for money. His father went to prison."