Bayern Munich footballer Mario Gomez is making headlines for telling a German magazine that gay footballers should come out of the closet, the Guardian reports: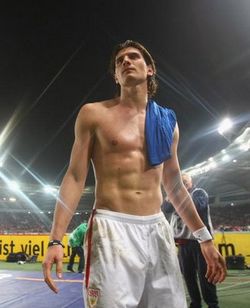 Gomez, who has not said whether he is gay, told a German magazine that being honest about their sexuality would improve gay players' performance.
"They would play as if they had been liberated," Gomez said. "Being gay should no longer be a taboo topic."
The 25-year-old, who was voted German footballer of the year in 2006-7, added that there were plenty of role models in the rest of German society to give gay players the courage to come out. "We've got a gay vice-chancellor [Guido Westerwelle]; the Berlin mayor [Klaus Wowereit] is gay. So professional footballers should own up to their preference," he said.
There are no openly gay players in Germany's Bundesliga, reflecting the situation across the football world, although it is estimated that about 10% of players are gay.
German football was last in the news shortly after the world cup when sports agent Michael Becker attributed the elegant style of the national team to the fact that "a bunch" of its players are gay.
Becker responded to the controversy: "Becker has neither denied nor confirmed that he made the comments, but has since said he was 'misunderstood' and that the interview was not 'authorised', a common journalistic practice in Germany whereby the interviewee has the right to change his remarks after the interview. Osang said he stood by his article, saying that Becker had told him 'unbelievable stories that I took down in my notebook and Becker didn't seem to have anything against me doing so'."