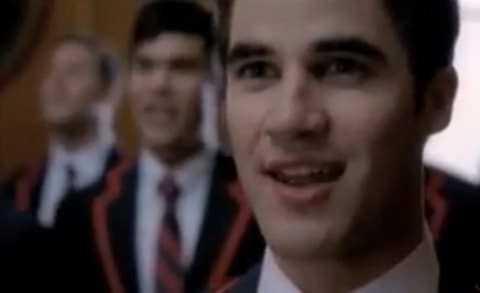 Darren Criss, who plays Blaine from Dalton Academy for Boys on this week's much-anticipated episode of Glee (see Glee's Teenage Dream), won't say if the story arc he's involved in leads to physical intimacy with Kurt Hummel, but he's certainly for it: 
"Honestly? That would be the coolest thing ever! If you're going to have a kiss like that on TV it might as well on the biggest show on television. Go big or go home. It's really fun to get all 'aw, who's going to kiss who?' I don't know. I'm more concerned about the characters and them finding what they need, or what they deserve. If they do end up having some kind of romance or intimacy, but that isn't going to be what's going to be awesome about whatever relationship they end up having. I'm really happy right now that Kurt has a friend that he feels he can relate to, someone who is out and proud of it."
Criss says he doesn't know how long he'll stick around either:
"I don't. Wish I did, then I could stop freaking out over whether or not they want me back! I don't know. I hope I'll be back, if the audience likes me.  I think he's a cool character, I'm really not objective, he's an interesting character—an interesting force to have on this show. Whatever happens I'm grateful to be on the show."
Watch Criss talk about his character with E! in late October, AFTER THE JUMP…
Read the full interview with Criss here.